Between 1863-1998 more than 150,000 Indigenous children was taken from their families and placed in boarding schools throughout the Canada. During 1876 the Indian Act was introduced in Canada and a long list of laws/rules were put in place. Over the years the Indian Act was revised and new laws were added. Because of the Indian Act Indigenous individuals couldn't hire lawyers, the event of Indian festivals, dancing or ceremonies was banned, Hereditary chiefs (leaders) was no longer recognized by the government, Indigenous individuals was forced to adopt European names, needed written permission from an "Indian Agent" to leave their reserve, was forbidden from voting and speaking their native language, practicing their traditional religion + more. It's clear as day the laws were meant to purposely discriminate against Indigenous people and their culture. Full Indian Act (with all amendments) can be read here.
Until 1951 all indigenous children ages 7-15 had to attend a residential school. Most of these boarding schools were fully Catholic, state ran and received a large amount of funding to operate. During their time at the school(s) students was extremely mistreated and abused. Whether it was discrimination, deprivation, every level of sexual, mental, emotional and physical abuse these children went through it all. There was a total of 139 boarding schools (150,000+ students) and 700 day schools (200,000+ students). In the end approximately 6,000+ children (as young as 3yrs old) died. Around 1,500 of the children was buried in unmarked graves at a few boarding schools. As many as 700 graves was found at one school. Shortly after the Canadian government pledged $27M towards finding more unmarked graves. During July 2022 the Pope apologized to the Indigenous community for the wrongdoings and "deplorable evil" that took place at Catholic boarding schools in Canada. He also promised an independent investigation to find out more about the abuse and history between the Catholic church and Indigenous community.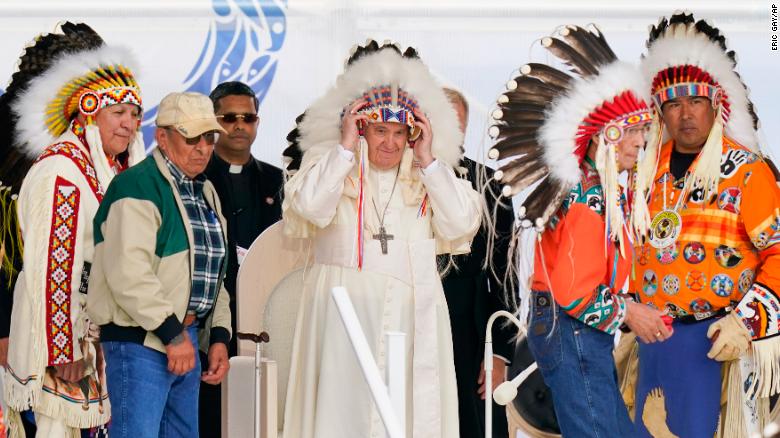 Dating back to 2005 there was a $2B compensation package put together for Indian residential school survivors. The average payout was around $25,000 but victims of sexual abuse was entitled to $275,000. From 2007-2015 38,000+ people (including the families of victims) came forward about the abuse they endured at the residential school and filed a human rights lawsuit. Full human rights lawsuit can be read here. This would lead to a $31.5B settlement January 2022. Another settlement took place December 2021 for the contaminated drinking water on Indigenous reserves. A total of $6.3B was awarded. As of right now the $31.5B settlement is the largest compensation agreement between the Canadian Federal Government and Indigenous communities. At first the largest compensation agreement between the Canadian Federal Government and Indigenous communities was collectively 2007-2019 when A total of $4.8B was awarded to 110,412 survivors. Payment history report can be read here. A report (with testimonies) that explains the history of Indigenous cultural genocide in Canada can be read here.
---
Findings At Indian Boarding Schools
Name: Sacred Heart Indian Residential School
Location: Fort Providence, NT
Years: 1906-1960
Tribe: Deh Gáh Got'ı̨ę First Nation
Bodies Found: 298 (161 children)
---
Name: St. Bernard Mission School
Location: Grouard, AB
Years: 1894-1961
Tribe: Kapawe'no First Nation
Bodies Found: 169
---
Name: Kamloops Indian Residential School
Location: Kamloops, BC
Years: 1890-1978
Tribe: Tk'emlúps te Secwépemc
Bodies Found: 215
---
Name: Marieval Indian Residential School
Location: Grayson, SK
Years: 1898-1997
Tribe: Cowessess First Nation
Bodies Found: 751
---
Name: Cranbrook
Location: Cranbrook, BC
Years: 1890-1970
Tribe: Ktunaxa Nation
Bodies Found: 182
---
Name: Kuper Island
Location: Kuper Island, BC
Years: 1890-1975
Tribe: Penelakut
Bodies Found: 160
---
Name: Brandon Indian Residential School
Location: Brandon, MB
Years: 1895-1972
Tribe: Sioux Valley Dakota Nation
Bodies Found: 104 (only 78 identified)
---
Name: Muscowequan Indian Residential School
Location: Lestock, SK
Years: 1889-1997
Tribe: Muskowekwan First Nation, Saskatchewan
Bodies Found: 35 + 104
(Bones began appearing near the site of the former Catholic ran Muskowekwan Indian Residential School in Saskatchewan during water-line work during the early 1990's. The Muskowekwan First Nation (in partnership with two universities) also found 104 unmarked graves in 2018.)
---
Fact Check: