The purpose of this post is to list the thriving black towns/communites that were covered by man-made lakes. There's a long history of Development Induced Displacement that forced Black people to leave their homes and most of them weren't paid or were undercompensated. The following towns have been selected for this post: Oscarville, Kowaligia, Warren, Seneca Village & Susannah.
---
Town: Oscarville
Location: Georgia
Population: 1,100+
Hidden Under: Lake Lanier
More Info: Oscarville was a thriving Black community filled with carpenters, blacksmiths, bricklayers + more. Out of all the trades in the town farming was number one. Around 1912 there were 1,100+ Black residents in Forsyth County and only 58 were land owners. According to the Digital Library of Georgia there were 109 Black residents paying farm tax. The farm tax had to be paid by anyone that rented or owned a farm. Pastors Grant Smith and Levi Greenlee Jr. were the spiritual leaders of the community and helped keep everyone together. Records from Greenlee's church showed that picnics were organized often for churchgoers. Violence towards Black people in this town began shortly after a few Black men were accused of raping and killing a white woman. Two of the men were Ernest Knox and Robert Edward. Ernest was brought to Gainesville and allegedly confessed to the crime. He was transferred to a jail in Atlanta shortly after. An angry mob of White residents gathered outside of the Gainesville jail then kidnapped the other suspect Robert. He was eventually beat to death before the mob hung him from a telephone pole in the town square for everyone to see. Violence continued Oscarville, GA with residents being threatened, homes shot up and burned. This led to Black landowners selling their property for way less than they paid for it like Alex Hunter who bought a farm during 1912 for $1,500. When Alex sold the land he only received $550. Land was also taken from residents through the adverse possession legal process after being abandoned for too long. According to Georgia historian Elliot Jaspin only 24 Black landowners in Forsyth County were able to sell their land and the rest have no record of sale. It's safe to say the remaining land was stolen. Years later during 1956 the US Government gained the rights to more than 56,000 acres of land in Forsyth, Hall and Dawson counties to make room for a 38,000 acre lake + about 700 miles of shoreline. That lake is known today as Lake Lanier and covers the town of Oscarville. Lake Lanier provides water to the metro Atlanta area and attracts 10 million+ visitors each year.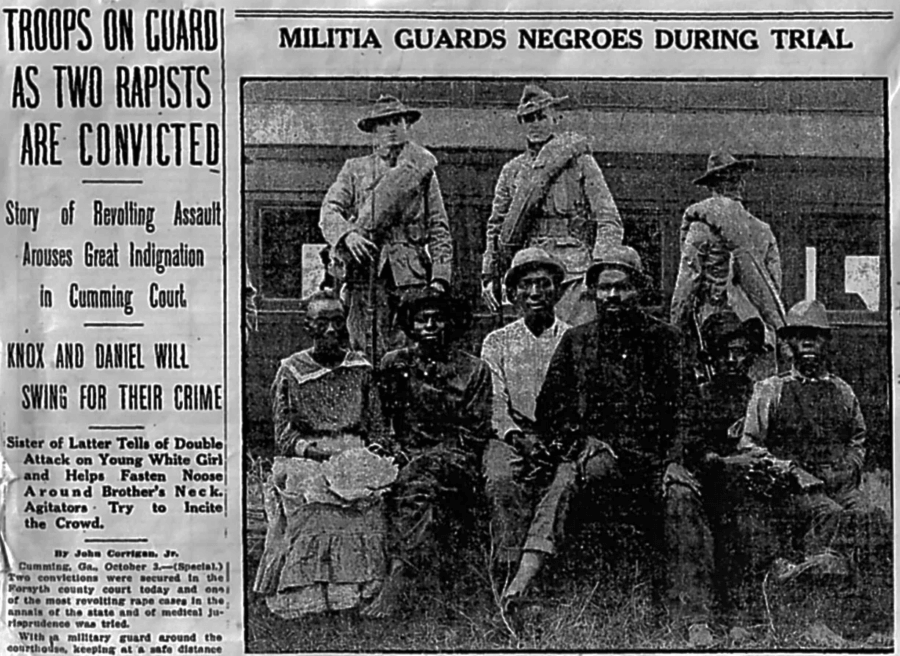 ---
Town: Kowaligia (Benson)
Location: Alabama
Population: —-
Hidden Under: Lake Martin
More Info: John Benson began buying land during 1880 and by 1898 he owned 3,000 acres of land. He eventually built a farmhouse, a brickyard, a sawmill, a cotton gin and a compression mill on this land. This led to the community of Kowaligia being formed. Together over 40 families produced corn, cotton, sugar, wood + more. Due to his wealth John Benson was able to become the local bank….. Yes 1 man was the local bank. He began backing mortgages for Black people and even loaned money to White people. John's son William Benson was born into wealth during 1873 and his legacy began that year. After college William wanted to provide education to the people of Kowaligia so he came up with a plan to build a school in the community. He believed by teaching the residents how to read, write, build moral character and even learn industrial skills then the community would be held to a higher standard. John Benson liked the plan and gave William 10 acres of land. In 1898 The Kowaliga Academic and Industrial Institute was incorporated. The school provided education to Black children for nearly 40 years after opening. The board of trustees had well known individuals like Booker T. Washington and Oscar Garrison Villard. The school wasn't enough for William as he wanted even more for his people. He eventually came up with the idea of building a railroad afyer realizing that most farmers were out of work for 6 months out of the year.. During 1900 he purchased 540 acres at $4.25 per acre, on consideration of $7,500 in stock from his father. After the purchase he founded The Dixie Industrial Company then began producing lumber and processed cotton. At one point the sawmill produced 50,000ft of lumber/day while grossing $30,000/yr. The Company also operated as a local bank similar to John Benson. During 1914 his railroad plans came to life when he founded the Dixie Line. This was the first Black-owned railroad company in the United States. The railroad company had customers all over the world but was short-lived because of World War I. The railroad was dismantled by The Alabama Power Company during 1922 just a few months before plans for a 44,000 acre reservoir were revealed in 1923. When construction was complete in 1926 The Kowaliga Academic and Industrial Institute closed their doors for good. A large portion of the Institute and industrial properties were acquired by Benjamin Russell. I'm not too sure how The Alabama Power Company mysteriously managed to get all the land needed for the dam to be built but it's safe to say the land was stolen or sold for way less than what it was worth. Today Lake Martin is used to generate hydroelectric power for The Alabama Power Company and covers what was once home to a thriving Black community.
---
Town: Warren
Location: Maryland
Population: 900+
Hidden Under: Loch Raven Reservoir
More Info: In 1881 the first part of the Loch Raven dam was built due to the city of Baltimore running low on water. Although the dam was a decent size it still didn't meet the demand for water. Plans for a new addition to the reservoir were revealed during 1908. Construction didn't begin until 1914 and new size of the dam held 1.5 billion gallons of water. Unfortunately the demand for water to satisfy 600,000 residents in the area still wasn't met. This led to even more plans to upgrade the size of the dam to 240ft high in 1923 but one thing was in the way of that…. A town called Warren. At the time Warren was thriving with it's own mills (cotton, flour, grist), 3 churches (St. Paul's Protestant, Warren Methodist Episcopal, and Warren Baptist), a post office, a school, a few stores and more than 900 residents. Regardless this town didn't stop the plan to upgrade the dam at all. After the project was announced city officials were quietly negotiating prices with Warren Manufacturing Co. for a majority of the land in the town. If Warren Manufacturing Co. had the rights to a large portion of the town then displacing the other residents wouldn't be as hard and that's exactly what happened. Eventually 23 billion gallons of gunpowder water were poured into the Loch Raven Reservoir which was once home to a thriving Black community.
---
Town: Seneca Village
Location: New York City
Population: 350+
Hidden Under: Central Park
More Info: Dating back to 1821 the state of New York required Black men to own $250+ in land and live there for at least 3 years in order to vote so owning land was a big deal back then. Seneca Village was a community formed by John and Elizabeth Whitehead during 1825. The couple divided their land into 200 lots and began selling them. The first 3 lots were sold to Andrew Williams for $125, Epiphany Davis bought 12 lots for $578, the AME Zion Church bought 6 lots for an undisclosed amount. Between 1825-1832 the Whitehead's sold half of their land to other Black people. By 1830 there were 10 homes in the village and livestock being raised. A spring known as Tanner's Spring provided water to the village. By the 1950's there were 50 homes in the village, 3 churches, a cemetary and a school for Black kids. Compared to the other Black people living in New York the residents of Seneca Village were more stable. By 1855 half of Seneca Village residents owned their land. During 1857 the city of New York used eminent domain to seize the land and displace 1,600+ residents. Construction began shortly after and the park known as Central Park took the place of an important Black community. In 2011 archaeologists from Columbia University and The City University of New York dug up a few plots of land for research purposes in Seneca Village. They found things like a small shoe, beer bottle, pans, tea kettle + more.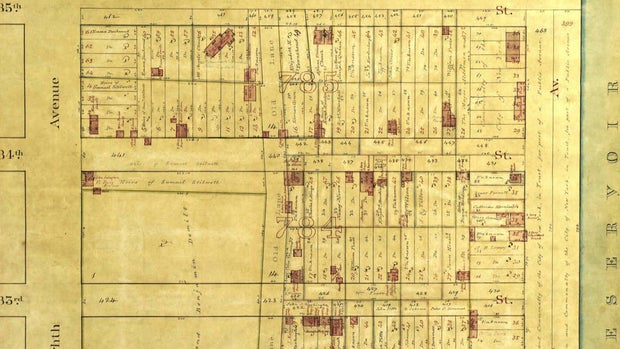 ---
Town: Susannah (Sousana)
Location: Alabama
Population: 900+
Hidden Under: Lake Martin
More Info: The town of Susanna had a post office, bank, gold mine, school, a few mills, blacksmith shop, church + more. During 1916 Alabama Power Company began acquiring the rights to land in efforts to make room for the 168ft high dam they planned on building. This dam covers over 40,000 acres today. Hundreds of families were displaced because of Lake Martin and 12 cemeteries containing 923 graves were relocated.
---
Fact Check: